Case Report - (2022) Volume 10, Issue 1
Adhesive Reattachment in Fractured Maxillary Premolars: A Case Report
Nikhil Mankar1*, Rutuja Rajnekar1, Karuna Burde2 and Pradnya Nikhade1
*Correspondence: Nikhil Mankar, Department of Conservative Dentistry and Endodontics, Sharad Pawar Dental College and Hospital, Datta Meghe Institute of Medical Science (Deemed University), India, Email:
Abstract
Trauma is the prime causative factor for fracture of teeth. However, the majority of posterior fractured teeth have a limited number of options when trying to save them. When the tooth fragments are still available and the biological width is not or minimally impacted, reattaching them may be an option for managing tooth fractures. This case report describes a complicated oblique crown fracture of the maxillary right premolars in an adolescent caused by a fall, which was treated with adhesive tooth fragment reattachment.
Keywords
Complicated crown fracture, Fragment reattachment, Trauma
Introduction
The incidence of dental trauma among young patients is not uncommon [1]. Accidents involving falls, high impact sports, and motor vehicles are the most often reasons of these injuries. The maxillary permanent incisors are involved in 97% of all cases of dental trauma, but only 3% occur with the other dental groups. Trauma to the maxillary premolars occurs about 0.6% of the time [2]
When biological width of the tooth fragment is maintained or minimally impeded and availability of fragment, reattaching the dental fragment can be an option for dealing with a coronal fracture. The anatomical shape, colour, and surface texture of fractured teeth can be preserved by reattaching fragments. As a result, its functions are restored, as well as its psychological effects. For a good prognosis, the patient must cooperate with the treatment and understand its limitations [3].
Treatment of the complicated crown fractures is dependent on the extent of the fracture, pattern, and depth of the fracture, restorability, secondary injuries, availability and condition of the fractured fragment, occlusion, aesthetics, finances, and prognosis [4]. If a close approximation exists between the fractured segments, root canal treatment and fiber post reinforcement is an option for complicated fractures [4].
This article reports successful management of fractured maxillary premolars by reattachment of tooth fragments.
Case report
A 17 year old male came to the department of conservative dentistry and endodontic, SPDC with a complaint of the loosening which is associated pain in upper right back region of jaw since 1 month.
He reported that he had fall from bicycle a month earlier and suffering with toothache subsequently. The medical and dental history was non-contributory. On clinical extra oral examination TMJ movements were well coordinated.
The clinical intra oral examination revealed teeth 14, 15 showing fracture of buccal cusp, and tooth 16 with distobuccal cusp fracture. In 14, 15 the fracture lines were extending from central groove, sub gingivally detaching the buccal cusp from the rest of the tooth. Gingival tissue secured both fragments of the teeth.
Upon percussion, the tooth was tender and the fracture line was oblique (Figures 1 and 2).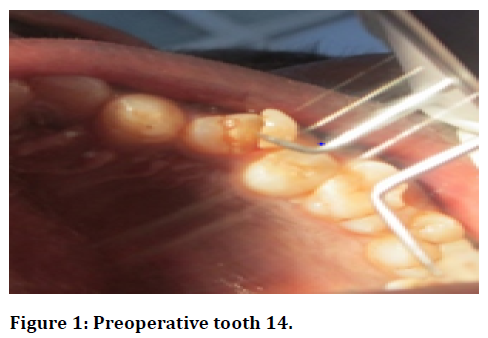 Figure 1. Preoperative tooth 14.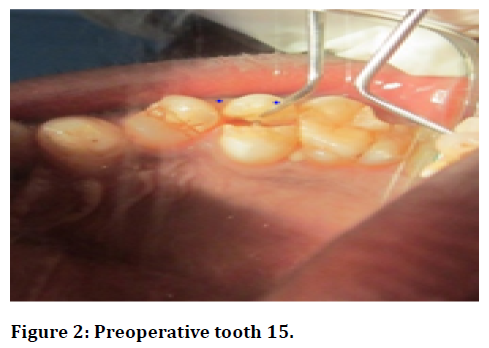 Figure 2. Preoperative tooth 15.
On radiographic examination, there appears to be a fracture line that approaches the pulp with 14 15 and for 16 the fracture line was extending till enamel. No peri radicular changes were evident (Figure 3). The final diagnosis was irreversible pulpitis with 14 15 having oblique complicated crown fracture with 14; complicated crown root fracture with 15; uncomplicated crown fracture with 16. Different treatment modalities were discussed with the patient, including pros and cons, costs, and the prognosis.
Figure 3. Preoperative radiograph 14, 15.
The choice of reattachment was only offered after checking the condition of the fragments and their fit on the fractured teeth.
One-visit endodontic therapy followed by reattachment of the fractured teeth was planned. A local anaesthetic was administered to the patient following his consent; the mobile buccal segments were a traumatically removed (Figure 4). A 2% chlorhexidine solution (Safe Plus) was used to clean it, followed by preserving in saline preventing the dehydration. For rubber dam application, split dam technique was used. The access opening on 14 15 were prepared by using br45, ex 24 burs (Figure 5). (Mani), and Apex locators (J morita Root Zx Mini) were used to determine the working length and confirmed by working length radiograph. WL for 14 was 19mm while the wl for 15 was 20mm.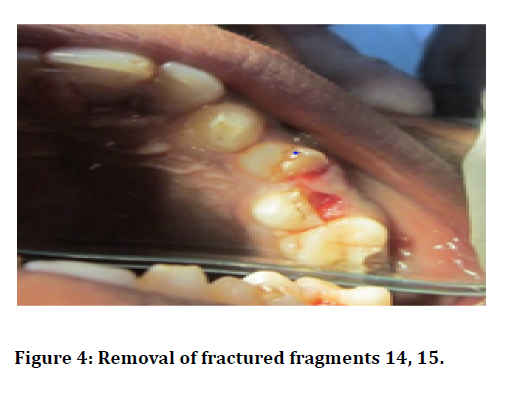 Figure 4. Removal of fractured fragments 14, 15.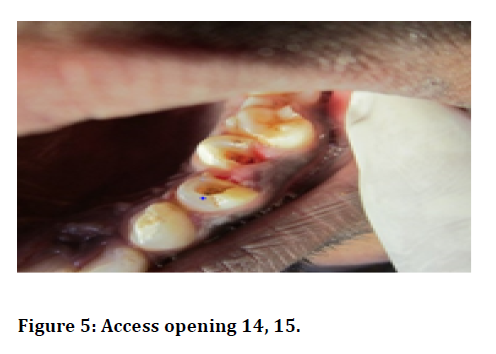 Figure 5. Access opening 14, 15.
Canals were instrumented using sequential K-files, and since 15 had curved canal, it was negotiated by precurving the files, and niti k files (Dentsply). The canals were being irrigated with 2 ml of 3% NaOCl (Parcan, Septodent) on every change of file. Following instrumentation, canals were irrigated by saline, canals were dried by absorbent paper points, followed by obstruction with 30 no master cone gutta-percha using AH plus sealer (Figure 6).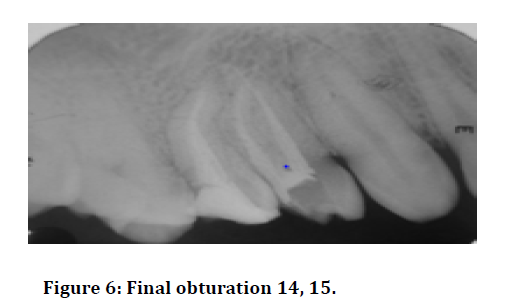 Figure 6. Final obturation 14, 15.
Now the post space preparation keeping apical 4mm gutta percha intact was done with post space drill for buccal canal of both 14 15. DT post no 1(RTD Dental) were used and looted with dual cure resin cement (Kuraray Panavia F 2.0). The periodontal flap was raised. Space for post was prepared on both the fractured fragments. A non-rinse conditioner (Kuraray Panavia F 2.0) was used both on the fragment and on the tooth.
In 2 coats, a bonding agent (Kuraray Panavia F 2.0) was applied to both substrates, slowly thinned with air, followed by light curing for 15 seconds. The dual-cure resin cement (Kuraray Panavia F 2.0) was used for tooth fragment reattachment. Periodontal flap was sutured after reattachment (Figure 7, 8). Coronoplasty was done with 16. A 7-day recall was made for suture removal and patient was instructed for importance of regular follow up. On 3 months follow up, teeth 14 and 15 showed a proper adaptation of the reattached tooth fragment as well as good periodontal health with no signs of root resorption and intact lamina Dura for both premolars (Figure 9).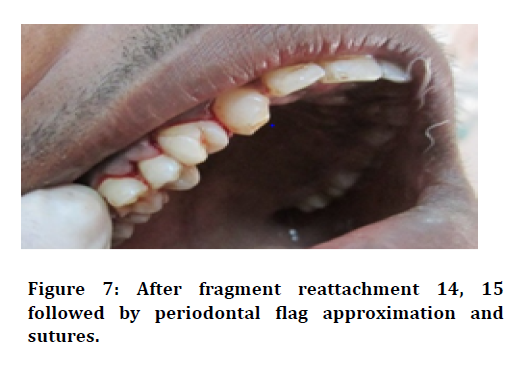 Figure 7.After fragment reattachment 14, 15 followed by periodontal flag approximation and sutures.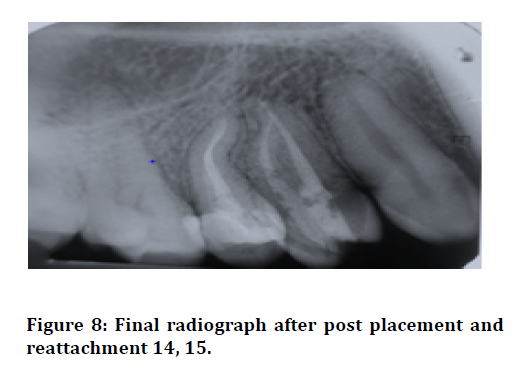 Figure 8.Final radiograph after post placement and reattachment 14, 15.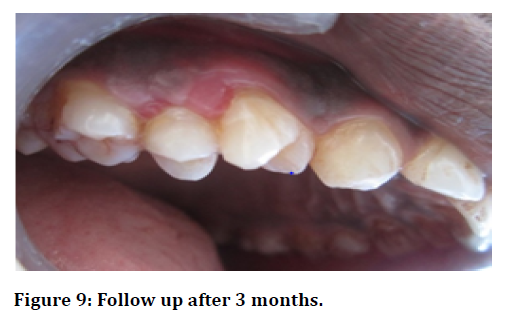 Figure 9. Follow up after 3 months.
In order to achieve a good prognosis, patients must cooperate and understand the limitations of the treatment
Discussion
Dental trauma is caused mostly by accidental falls, with anterior teeth being affected most frequently [5]. The premolars are bicuspid teeth, making them prone to fracture from the traumatic forces more often than the molars [6]. Various types of fracture includes uncomplicated and complicated crown fractures, the patient of this report had complicated crown-root fractures.
Because of recent advancement, the dental bonding technology allows for extremely good results with regard to the reattachment of dislocated tooth fragments as long as the biologic factors, materials, and techniques are logically evaluated and managed [7]. Depending on the state of the periodontal, endodontic, coronal, and occlusal conditions, a treatment plan can be made [8].
In some cases, a fiber post is necessary in conjunction with a crown in order to reinforce the tooth structure and to replace missing fragments. However, in our case reports, the fracture fragment was fairly intact and exhibited a good fit over the radicular portion, so reattachment using fiber post was found to be the most effective treatment for the fractured fragments.
Since 1964, reattachment has been an established concept when an anterior crown segment was reattached by using a cast post and conventional cement [9]. Using resin-based composites for reattachment has become possible using recent advances in restorative materials, placement techniques, and adhesive protocols. Using acid etching for reattaching fractured teeth, Tennery, et al. presented a novel technique for reattaching fractured teeth [10].
There are several benefits to using non-metallic posts like tooth colored fiber posts. It has a modulus of elasticity similar to that of dentin, has an aesthetic appearance, and has fewer chances of fracture. It has been possible to mono block, i.e. to create a multi layered structure without weak interlayer connections, a multi layered structure made of a composite core and a glass fiber post. Another benefit of the fiber posts is that they help regarding the distribution of the stresses among the remaining radicular dentin. Using resin cement to lute the fiber posts helps to both strengthen the tooth and to achieve higher bond strengths between the fractured segments. Additionally, air voids are minimized, and the process is easy to use [11]. Apical areas can be affected by incomplete polymerization of light cured luting resin cement; Dual curing systems are therefore the most suitable material since their ability to allow polymerization even in deeper areas is advantageous because light cannot penetrate further into the surface [12]. In order to avoid eugenol-based sealers inhibiting the setting of resin cements, resin-based sealers are used for obstruction of the teeth to be restored with glass fiber posts.
For supra gingival fractures, the reattachment procedure is straightforward. Sub gingival fracture sites, however, require surgical procedures like electro surgery, flap surgery , clinical crown lengthening procedure including the removal of alveolar bone, and elimination of gingival overgrowth for access of the fractured site are all various techniques for bonding fractured component [7]. Based on the considerations of periodontal, pulpal, and colour harmony for a follow-up period of 24 months, reattached fragments have demonstrated success rates of up to 90 percent [13]. The outcome of the reattached tooth depends on the fitness, contour, and surface finishing of the sub gingival restoration which may increase plaque retention. Plaque and diet control could maintain a restoration's effectiveness as long as they are controlled effectively.
The purpose of this case report is to demonstrate the significance of establishing a multidisciplinary approach for managing the dental trauma and its possible squeal, particularly in cases of unusual tooth fractures.
Conclusions
It is important to consider several factors when choosing a technique or material for fragment reattachment. The present case reports demonstrate the success of reattachment for restoring aesthetics and function. Patients, however, need to be informed about the possible interim nature of treatment.
References
Author Info
Nikhil Mankar1*, Rutuja Rajnekar1, Karuna Burde2 and Pradnya Nikhade1
1
Department of Conservative Dentistry and Endodontics, Sharad Pawar Dental College and Hospital, Datta Meghe Institute of Medical Science (Deemed University), Sawangi (M), Wardha, Maharshtra, India
2
Department of Public Health Dentistry, Saraswati Dhanvantari Dental College and Hospital, Parbhani, Maharashtra, India
Citation: Nikhil Mankar, Rutuja Rajnekar, Karuna Burde, Pradnya Nikhade, Adhesive Reattachment in Fractured Maxillary Premolars: A Case Report, J Res Med Dent Sci, 2022, 10(1): 538-541
Received: 06-Dec-2021, Manuscript No. Jrmds-21-41356; , Pre QC No. Jrmds-21-41356 (PQ); Editor assigned: 08-Dec-2021, Pre QC No. Jrmds-21-41356 (PQ); Reviewed: 22-Dec-2021, QC No. Jrmds-21-41356; Revised: 27-Dec-2021, Manuscript No. Jrmds-21-41356 (R); Published: 03-Jan-2022